CUSTOM BANNER IN BATON ROUGE
BRING YOUR BUSINESS TO THE NEXT LEVEL
What exactly is a custom banner print service, and what is the use of banners?
A banners print service involves the creation and printing of banners for various purposes. Banners are large, flexible sheets of material, usually made of vinyl or fabric, that can be hung or displayed in a variety of settings.
Churches, Banks, Corporation Buildings
Business and Shopping Centers
Restaurants and Event Centers
Real Estate Agencies
Insurance Companies
Apartment and Residential Communities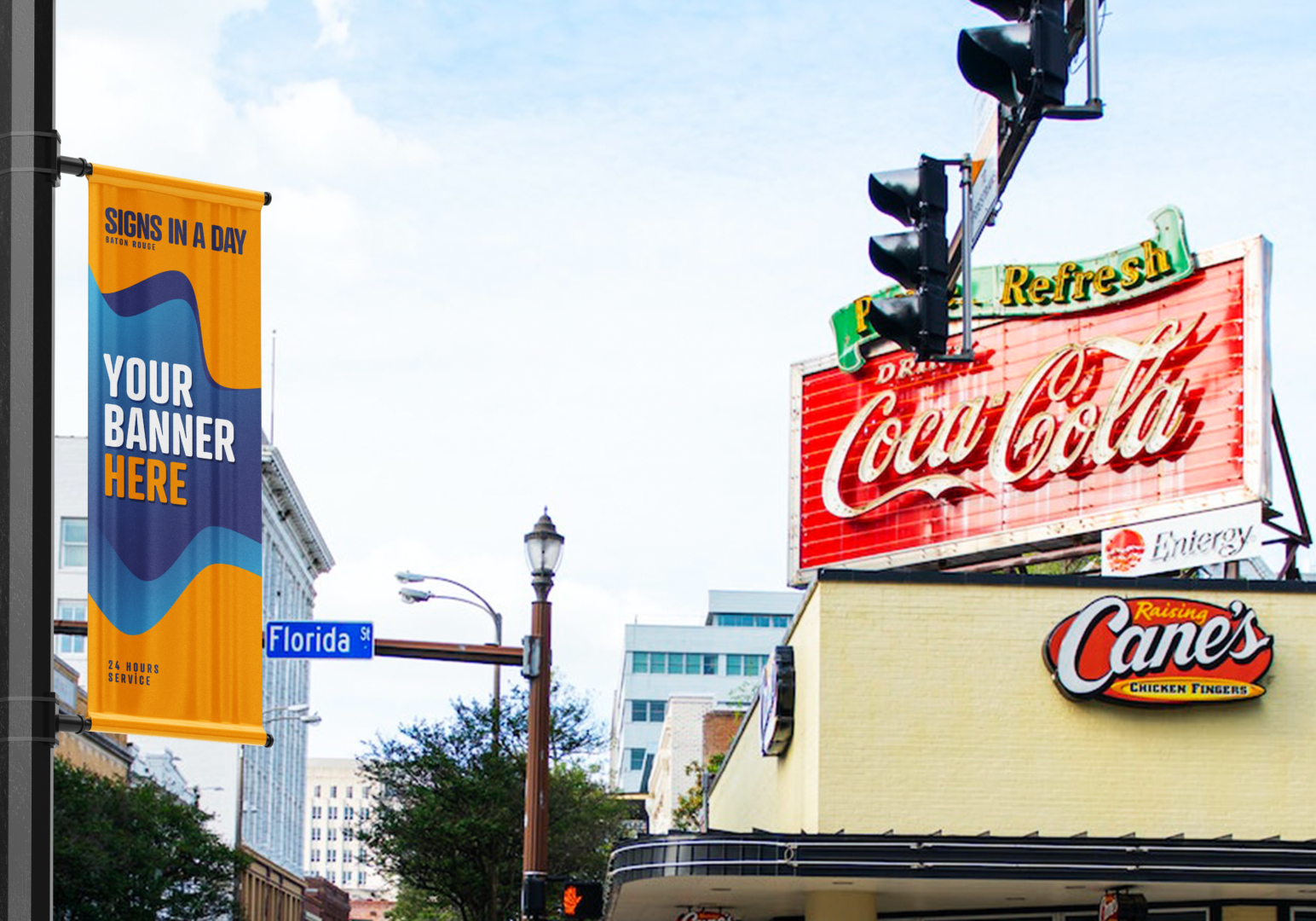 Sign in a Day, we offer High-Quality Custom Banner print services for all types of Businesses and Events.
Banners are commonly used for advertising, promotion, and branding purposes. They can be displayed at storefronts, trade shows, events, and other locations to attract attention and promote a business or event. Banners can be customized with a range of graphics, text, and other elements to suit the needs of your business or event.
At Sign in a Day, we offer high-quality banners print services for all types of businesses and events. Our team of skilled designers and printers can create high-quality printing banners that accurately reflect your branding and message. Plus, with our 24-hour service, you can get the banners you need in a timely manner. Contact us today to learn more about how our Custom Banner printing service can help your business or event stand out.
the essence of the company
Increase Brand Recognition
Interior and Exterior corporate image
To differ from the competition
The sign is the best street marketing tool
YOUR SIGNAGE MAKERS IN BATON ROUGE
SINCE 1998
With over 22 years of experience, we at Signs in a Day have been a trusted provider of signs, banners, vehicle wraps, and decals for businesses, hospitals, and individual clients. Our commitment to customer satisfaction is reflected in our timely completion and delivery of products.
Order Today…
Pick Up Today!